About Padmanabhanagar Branch
Springboard International Preschool, Padmanabhanagar Centre, Bangalore Authorised Franchise Name: NANDGOKULAM SCHOOLS TRUST
"NANDGOKULAM SCHOOLS TRUST" started in March 2020 with a Mission to impart high quality education in a safe positive learning environment that builds the foundation for lifelong learning. We provide a safe, developmentally appropriate, nurturing environment that promotes social, emotional, cognitive and physical growth, as well as a positive self-image and a love of learning. We are an early childhood service which aims to provide a child-focused environment for children aged between 2 and 6 years of age where the curriculum emerges from the interests, strengths and needs of the children.
Our Vision is to develop and uphold best practice in the provision of an early childhood service. We understand that best practice relies on maintaining a professional attitude and approach at all times.
We are committed to increasing professionalism through skill and knowledge development, following trends in early childhood education and promoting staff development.
The educators will be reflective of our practices, provide an inclusive learning environment, review service provision and respond to community needs. We acknowledge the need to be proactive in promoting our service in the community and be advocates for our profession, our families and children.
Our goal is to have each parent and child excited to be part of our system each day.
Facilities & Offerings for the children
We not only focus on the skills development of children but also enhances their overall communication skills. We focus on the overall holistic development of children and aims at providing quality education and nurturing the children with knowledge as well as competitive spirit for creative learning.
Children will learn to strengthen their social and emotional development. Our school provides an environment for children to explore, gain a sense of self, play with peers and build self-confidence.
We indulge in activities such as art and craft, storytelling, games and many more.
The curriculum facilities and personal attention given to the kids all play a crucial role in determining the best from the rest. The curriculum at Spring Board is designed in such a way that it balances academics, co-curricular activities, and personality development of a child. Besides we aspire to instill the leadership qualities in a child along with discipline, respect and concern for each other.
We have trained teachers who are devoted to the cause of child education in a scientific and regulated manner. We fosters the Joy of Learning. Our qualified and experienced staff work in the direction of evolving a community of learners equipped with 21st century skills to help them face the challenges of the future world.
School building is very spacious and beautiful with a huge outdoor play area.
Schools are an essential stepping stone for children's to keep their tiny steps out of their home in to new environment.
'Spring Board' was started in the year 2013 by Mr. Vishnu Manchu, an Actor, Director, Producer, Educationalist and Philanthropist. Within a span of four years, it has emerged as one of the best preschools in India and is currently leading with 75 plus branches.
The quench to provide standard education did not cease at rendering pre-schooling alone but 'Spring Board' also ventured into Primary high school education in the year 2016, and has established 7 Academies so far in the states of Telangana and Andhra Pradesh and is expanding its roots across other States as well.
Chairman's
Message
Our goal is to provide quality, comprehensive and affordable school education to all individuals in a comfortable and safe environment. As a Chairman, I feel its my privilege to share the information pertaining to my perception of Spring Board International Preprimary Schools & Spring Board Academies.
Facilities
We have CC TV camera access for day care parents.
We provide Breakfast (if needed) lunch and evening snacks for day care kids.
We use pure Aqua drinking water for kids.
We have ball pool and small pool playing area for kids.
We have outdoor playing area where in we have slide, sand pit, swimming pool.
Reach us
Address
House No.29/41,15th Main Road,
13th Cross, Padmanabhanagar,
Bangalore 560070, Karnataka
Phone:
7624802323
Email:
sb.padmanabhanagar@sb.education
Spring Board International Preschool in Miyapur Won the Hyderabad Preschool

Preschool Franchises in Hyderabad make your Business Profitable

SBIPS International Preschools in Hyderabad

Congratulations to All Our Students who made us proud again with 100% pass percentage in CBSE 10th Class Results
Latest Events &
Activities
Class Activities Participation and Submission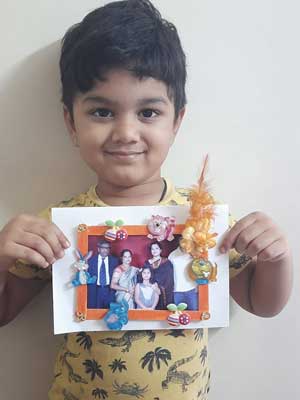 Name of the Student : PRANAV P SHEKHAR
Class : PP-1
Subramanian Babu
I appreciate the school for bringing out excellent confidence levels in my child, especially while performing and speaking on a stage. This school has shown pretty good difference in fostering the shy-natured children. This has made me ever-welded to the school.

Tulasi Janaki
Spring Board's philosophy is just as same as mine. As a parent, I keep advising my kids not just to be successful, but to make a positive impact. They've helped me to impart this ideology to my kids.

Ramesh Joseph
If I have to say something about the this chain of schools, they unearth the child's talent and enable them discover something excited and enthusiastic in their future.

Mohammad Ismail
Would like to thank my son's class teacher for her guidance. She shared some brilliant innovative ideas to make him learn words and sentences, applying which there has been a remarkable improvement. The projects and models crafted by him were impressive.

Neelima Reddy
Glad to notice bright and lively classrooms and the vibrant way of presentation over there. The school's infrastructure is so pleasant that our children are nurtured in an environment' which is free of pollution and stress. We simply loved it!

M.Nicolas
Dear beloved spring board school management and teachers and staff and students We gschomhes tanuku thanking you all for your gracious kind support and sponsorship to gschomhes orphanage kids With food raw material and fruits and clothes and gift items and love from you all to desperate destitute orphan and some physically challenged and some sick kids. Thanking you all