'Spring Board' was started in the year 2013 by Mr. Vishnu Manchu, an Actor, Director, Producer, Educationalist and Philanthropist. Within a span of four years, it has emerged as one of the best preschools in India and is currently leading with 75 plus branches.
The quench to provide standard education did not cease at rendering pre-schooling alone but 'Spring Board' also ventured into Primary high school education in the year 2016, and has established 7 Academies so far in the states of Telangana and Andhra Pradesh and is expanding its roots across other States as well.
Chairman's
Message
Our goal is to provide quality, comprehensive and affordable school education to all individuals in a comfortable and safe environment. As a Chairman, I feel its my privilege to share the information pertaining to my perception of Spring Board International Preprimary Schools & Spring Board Academies.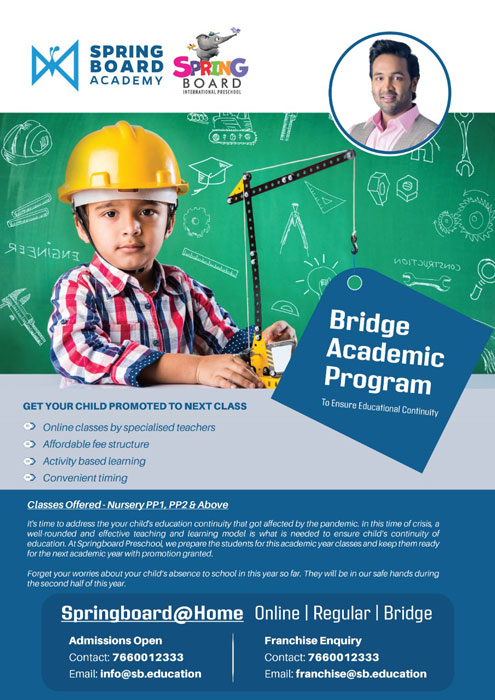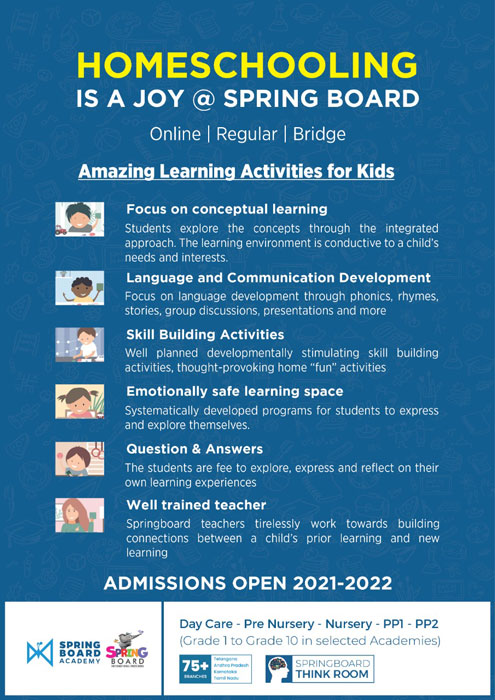 Vision
Our prime vision is to develop in each child 21st century competencies and help them reach their full potential in a safe and comfortable learning environment so that they are equipped with skills to navigate in a fast-changing world and grows up to become a confident person, a self-directed learner, an active contributor, and a responsible citizen.
Mission
The Springboard school has pledged to prepare innovative, skilled and economically independent individuals, who will be leaders in their respective fields. The school's aims are to give every student an access to world-class infrastructure, and an innovative curriculum that promotes an all-round development of the child imbibing traditional values.
Spring Board International Preschool in Miyapur Won the Hyderabad Preschool

Preschool Franchises in Hyderabad make your Business Profitable

SBIPS International Preschools in Hyderabad

Congratulations to All Our Students who made us proud again with 100% pass percentage in CBSE 10th Class Results
Latest Events &
Activities
Subramanian Babu
I appreciate the school for bringing out excellent confidence levels in my child, especially while performing and speaking on a stage. This school has shown pretty good difference in fostering the shy-natured children. This has made me ever-welded to the school.

Tulasi Janaki
Spring Board's philosophy is just as same as mine. As a parent, I keep advising my kids not just to be successful, but to make a positive impact. They've helped me to impart this ideology to my kids.

Ramesh Joseph
If I have to say something about the this chain of schools, they unearth the child's talent and enable them discover something excited and enthusiastic in their future.

Mohammad Ismail
Would like to thank my son's class teacher for her guidance. She shared some brilliant innovative ideas to make him learn words and sentences, applying which there has been a remarkable improvement. The projects and models crafted by him were impressive.

Neelima Reddy
Glad to notice bright and lively classrooms and the vibrant way of presentation over there. The school's infrastructure is so pleasant that our children are nurtured in an environment' which is free of pollution and stress. We simply loved it!

M.Nicolas
Dear beloved spring board school management and teachers and staff and students We gschomhes tanuku thanking you all for your gracious kind support and sponsorship to gschomhes orphanage kids With food raw material and fruits and clothes and gift items and love from you all to desperate destitute orphan and some physically challenged and some sick kids. Thanking you all