Start your own "SPRING BOARD" International Preschool Franchise
Spring Board International Preschools is the most promising preschool franchise in Telangana. SBIPS is a progressive preschool system offering an enhanced curriculum that is a hybrid of the traditional and digital learning methodologies. Our mission is to provide children with a nurturing and safe environment conducive to learning that will set a strong foundation for their future. Established in 2016, Spring Board International Preschools is the best preschool franchise in Telangana with successfully running 75+ branches. 
The Fastest Growing Preschool Chain In South India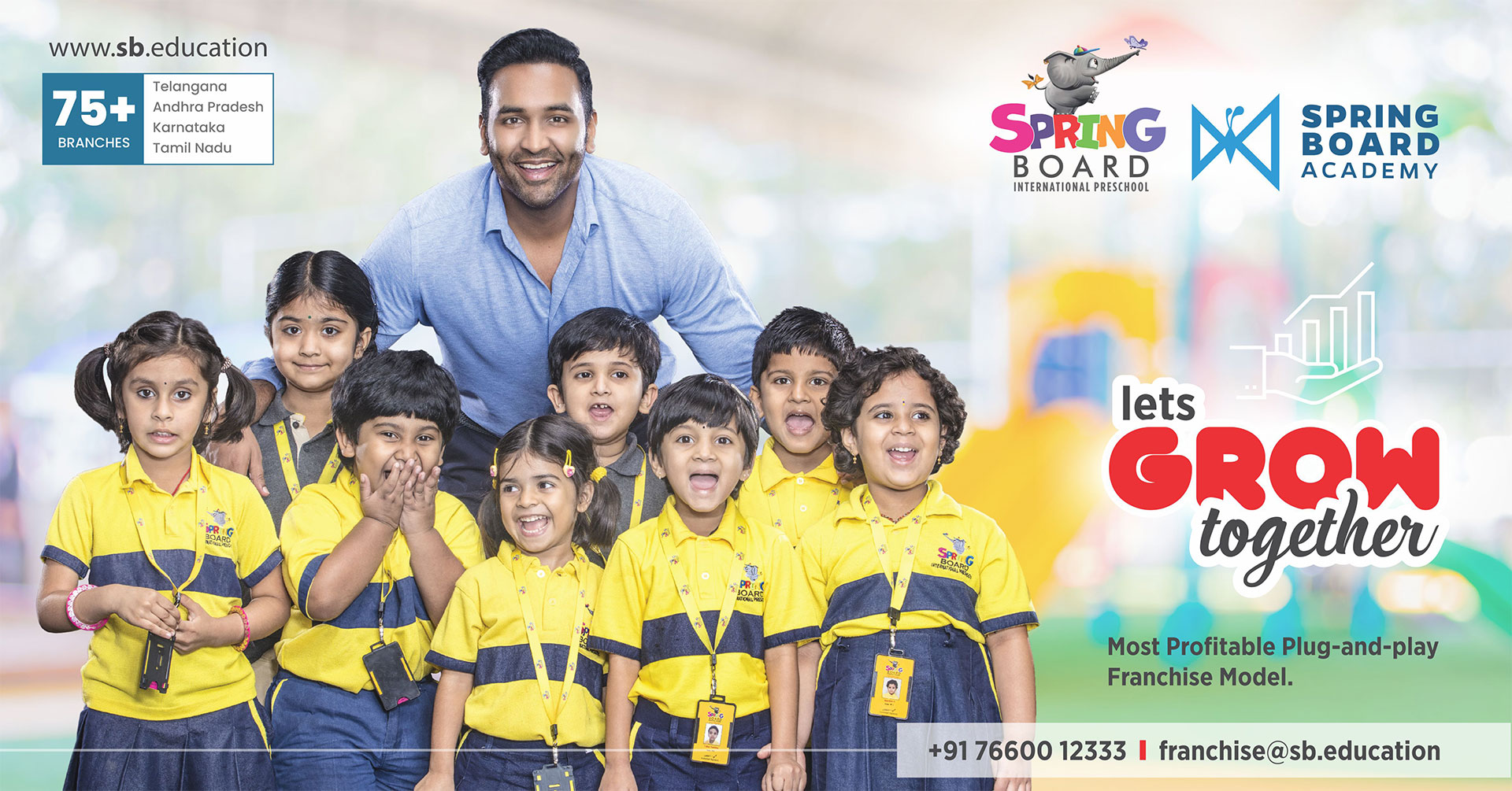 TELANGANA | ANDHRA PRADESH | KARNATAKA | TAMIL NADU
Franchise Requirements:
Space: A Minimum area of 3000 sq. Ft. Carpet area in a premium residential location in your city, preferably an independent villa /bungalow.
Investment : To know more about project financials, please connect with our business development team at franchise@sb.education
As our franchise, you will receive complete consultative support on Preschool set up, toys and teaching aids procurement, marketing and branding campaigns, curriculum implementation, teaching methodology, recruitment of key staff, training of counsellors, teachers and any other day-to-day operations.
"SPRING BOARD" NAMED NO 1 PRE SCHOOL IN HYDERABAD BY TIMES OF INDIA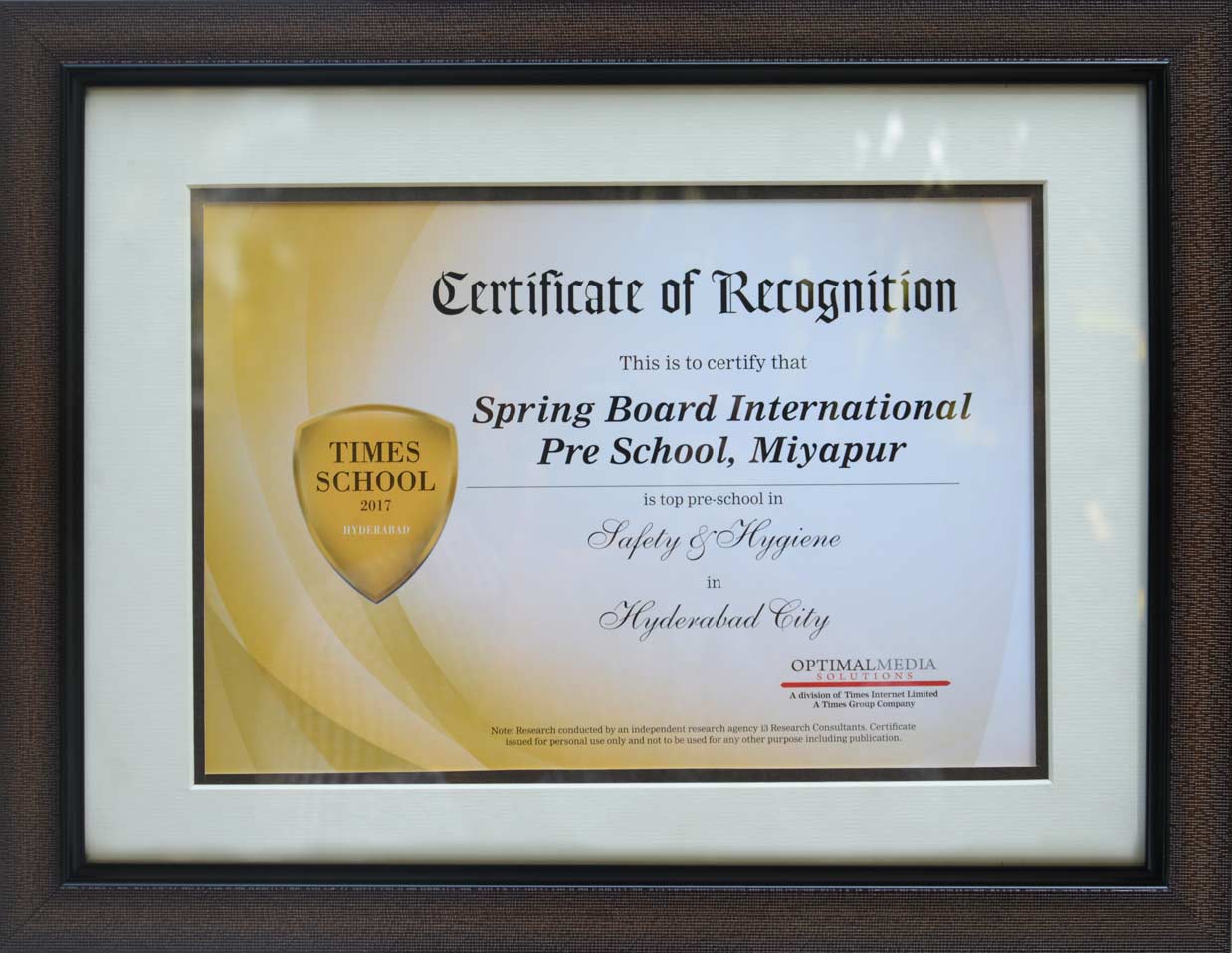 Times of India, one of the most popular publications in the county, announced preschools rankings 2017. Times of India has announced 'Preschool Rankings 2017' and Spring Board International Preschool is recognized as one of the top international preschools in several categories. Preschool rankings were based on great teachers, strong extra-curricular programs, and top-notch infrastructure, school's progress, and educational environment. As it is a fast-growing franchise model in South India. SBIPS has more than 75 branches across Telangana, Andhra Pradesh, Tamil Nadu and Karnataka. If you are trying to start off your own preschool, please reach us by filling the above Franchise enquiry form or call us directly on the toll-free number 18002001888.
2
Assistance in Site Selection
3
Assistance in Market Survey, Study and Research
4
Complete guidance and solutions to set up a prestigious preschool
5
Assistance in interiors, equipment and teaching aids
6
Assistance in Staff Recruitment
CONTACT NUMBER: 7660012333
About Spring Board
Spring Board is a vibrant early childhood centre that serves children between 1 1/2 years to 5 years of age. We provide high quality care combined with a strong educational foundation and a focus on environmental consciousness. Each child's potential will be nurtured through our vibrant learning environment which combines play, carefully designed lesson plans, and thoughtful interactions. Children will build a strong foundation for their future and the future of our world during their time with us. Your child is valued as an individual and acquires lifelong skills that lay the foundation for future schooling. We believe in the unique way each child views the world and are committed to their development by offering engaging experiences. Our Preschool Program introduces children to more structure and teacher-guided activities, while still balancing play and exploration. As children turn three, they become more aware of their role in the world around them and have increased social interactions with their peers and adults. Our talented teachers use open-ended activities to begin to help children explore science, social studies, math, and early literacy skills in a discovery-based way. Each day brings a new adventure as our pre-schoolers learn to play cooperatively and are exposed to a variety of activities!